sunday - lw

@mike's page > hobbies > mindstorms > weltweit lego > legoworld zwolle 2010 > monday - mcp

tuesday - amsterdam
Lego
RCX
Technik
LEGO World 2010
Monday - MCP Meeting

Montag - MCP Meeting:
Meeting point Hotel Mercure ... chat with nice LEGO employees ...
Philo with his bike
# 1 on the agenda:
assembly of your name tag
# 2 on the agenda:
exchange of information
and ideas
# 3 on the agenda:
collect some goodies
Evening meal at Zwolle:
Another italian restaurant ... totally blanked about the name ... enjoyable meal ... nice people ... fabulous end of day!
Thanks LEGO for another very nice meeting!


Cataline with her
special made necklace ...
... and John with the
matching earrings!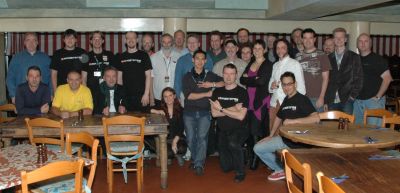 LEGO & MCP
sunday - lw

@mike's page > hobbies > mindstorms > weltweit lego > legoworld zwolle 2010 > monday - mcp

tuesday - amsterdam