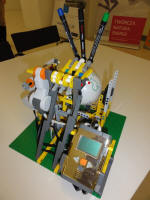 Der Globe Plotter:
Dieser Roboter zeichnet nahezu die ganze Welt auf einen leeren weissen Ball.
Dafür wurden die Koordinaten der Kontinente als ZickZacklinie vorbereitet und werden mit dem grünen Filzstift gezeichnet. Wenn die Kontinente fertig gezeichnet sind, wechselt der Roboter die Zeichenfarbe von grün auf schwarz.

Mit der schwarzen Farbe werden die Kontinente beschriftet, AS für Asien, AF für Afrika, NA für Nord Amerika, SA für Süd Amerika und EU für die Europäische Union.

Nachdem auf Blau gewechselt wurde, werden die Ozeane beschrifet, PAC für den Pazifik, ATL für den Atlantik und IND für den Indischen Ozean.

Der Globe Plotter verwendet einen NXT (programmierbarer Baustein), in dem alle Koordinaten gespeichert sind.
Zwei Motore drehen und neigen den Ball. Der dritte Motor hat zwei Funktionen, er wählt die gewünschte Zeichenfarbe aus und er hebt die Stifte an, wenn sie nicht gebraucht werden.
Ein Tastsensor erkennt die Anfangsposition der drei Filzstifte.

Wenn der Globus fertig gezeichnet ist, kommt er auf einen aus Technicteilen gefertigten Halter.



The Globe Plotter:

This robot draws nearly the entire world on a blank white ball.
For this robot the coordinates of the continents were prepared as a zigzag line, drawn with a green felt tip pen.
After the continents are drawn the robot switches colors from green to black.

With this pen the continents are labeled, AS for Asia, AF for Africa, NA for North America, SA for South America and EU for the European Union.

After switching to the blue pen the oceans are labeled, PAC for Pacific, ATL for Atlantic, IND for Indian Ocean.

The Globe Plotter uses one NXT intelligent brick where all the coordinates of the globe are stored.
Two motors are used for tilting and rotating the ball. The third motor has a two functions. It selects the desired color to draw with and it lifts the pen when not needed.
One touch sensor is attached on the frame to detect the initial position of the three felt tip pens.

When the globe is finished it is mounted on a special holder made out of LEGO Technic elements.